One of the newest phones out for Verizon Wireless right now is the  HTC 10. This is the replacement for the HTC One M9. As you remember we really enjoyed the phone. Can the 10 pick up where the One M9 left off? Let us find out.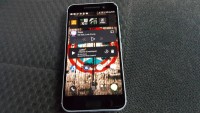 The HTC10 features upgrades almost the whole way around. The exterior size of the 10 is just slightly smaller that it's predecessor, but hardly noticeable. Inside of this fame is where all the upgrades take place.
Lets start with what powers the the HTC 10. It's a Qualcomm Snapdragon 820 Quad Core Processor with 4GB of RAM. Video Processing is done via an Adreno 530 processor. This combination gives you lightning fast speed when scrolling through screens and playing games. The addition of the video processor allows you to play those games with no lag and watch movies in theater like quality.
If you like to store those movies you are watching on your phone, the HTC 10 has 32GB of memory. If that's not enough for you, HTC has added a microSD card slot that will take up too a 2 TB of memory. Yes, that's 2TB which is good enough for almost 2000 plus movies, depending on how you format them. If you like storing pictures, that's nearly 1 million pictures.
Speaking of pictures, this phone is great for taking them. The HTC 10  features what HTC calls their UltraPixel Camera. This camera gives you 12MP with a F1.8 aperture with a 26mm focal length.  Some of the features that are included are RAW Image capture, Image Stabilization, Facial Recognition, and Laser Autofocus. You will not be disappointed with the family photo's you can take with this phone. If you use your phone for a lot of video chatting, the front facing camera is 5 MP. If you are one of those parent's who can't stop sharing video's of your children, the 10 offers you 4K and 720p video recording. Now when you show all those video's to your friend's, they can't use the excuse that the quality is bad and that's why the don't want to watch.
Now we talked earlier about video's, and what good would trying to watch a movie be if you didn't have a good screen. The 10 has a 5.2 inch screen with a resolution of 1440 x 2560. The 10 also packs 565 pixels per inch. These stats remain unchanged from the M9.
All of these stats mean nothing if your phone is constantly dying or on a charger. The HTC 10 has a 3,000 mAh. HTC says this will give you 19 days of standby time and 27 hours of 4G talk time.
Now we know most of our time is spent playing games. Luckily I love gaming so I can tell you that you will get a good 6-8 hours of play time on a single charge. When you do need to charge you phone, the HTC 10 features rapid charging through the included USB C cable.
When making voice calls, the 10 features HD Voice. This gives you call clarity that is unsurpassed. If you are on the phone with another Verizon user with a HD Voice compatible phone, it sounds like you are in the same room.
Included on the HTC 10 are some of the other standard Smartphone items such as GPS, Wi-Fi (Dual Band), Bluetooth 4.2, NFC, and  Wi-Fi Hotspot.
Pro: Good  battery life,  Great picture quality, Good sound quality, microSD Card slot
Con: Front facing speakers are gone, USB-C Charging cable
If you are in the market for a new Android Smartphone, Verizon Wireless is now offering the HTC 10 for $27.00 a month or $648.00 outright.