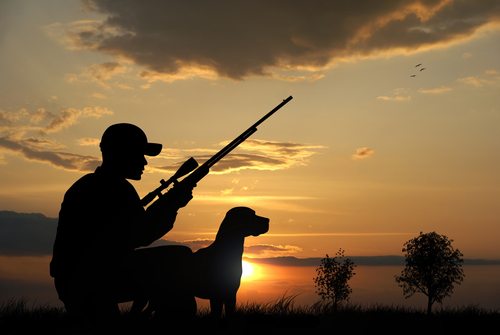 Every year our favorite brands release new products and technology specifically geared toward maximizing your hunt. And this year's list is no exception. Now that hunting season is just around the corner, it's time to review your arsenal of gadgets in order to determine what other accessories you may need for a successful hunt. Here are a few to consider.
GPS
There's no way around it, if you're hunting in the backcountry then you're going to need a GPS. A popular choice among hunters is Garmin's Rhino 650 handheld GPS radio. The impressive technology allows the user to mark important locations at the click of a button, view their location in relation to other waypoints or users and so much more.
The functionality of Garmin's GPS will eliminate unneeded stress and wasted time on your next hunt. With the Rhino 650, you can easily view surrounding topography; record the route, speed and distance of a hunt; share coordinates with others and even monitor incoming weather.
If you're looking for a more budget-friendly option, consider a beacon or Spot Gen3 Satellite GPS Personal Tracker.
Trail Camera
Trail cameras allow the user to monitor and pattern game as it moves through the area. An accessory like this provides hunters with valuable tracking information that can make the process of planning their next hunt much easier.
Luckily, trail cameras don't need to be expensive in order to be effective. With the advances in technology today, even trail cams on the low end of the price point are jam packed with helpful features.
Rangefinder
Just like most optics, rangefinders can get expensive. But depending on your budget, a rangefinder with multiple capabilities can be a huge asset to you on your next hunt. Some of the obvious functionalities you should look for is the maximum distance it can range, the accuracy and adjustment features and an optic display you prefer.
With the assistance of a rangefinder you'll be able to take those long shots without hesitation and increase your chances of harvesting an animal. If you're looking for something top of the line, consider the SIG Sauer Kilo 2000, the red dot sight is extremely convenient and makes ranging a breeze.
Solar Charger for Accessories
Technology is finding its way into the field more and more with every passing year, and hunters are starting to rely on tech gear to maximize their hunt. But technology can have its drawbacks, especially in the woods without an outlet nearby. What good is a phone, GPS or other device if the battery is dead?
A solar charger for all of your tech accessories will help you keep your mind on your hunt and not on the dwindling battery life in your pocket. You'll never have worry about your GPS dying halfway into a hunt when you have a handy Goal Zero Nomad Solar Panel with you.
Airsoft Gun
While you're gathering your tech gear for your next hunt, be sure to keep your shooting skills sharp. Using an airsoft gun for tactical practice is a fun way to stay on top of your game. Let's face it, not all shots are broadside and grazing, sometimes you've got to shoot on the move and still be confident in your shot placement. There are plenty of brands to choose from, but the Crosman Game Face Airsoft Rifle is an affordable option that can shoot up to 300 fps.