Motorola has been offering some very stout Android phones recently. Does the Moto Z Force Droid keep up with what they have been releasing or does it not hold muster? Keep reading to find out.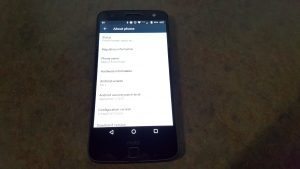 The Moto Z Droid takes everything that Motorola has been doing with phones and blew that out of the water. The Droid Z offers unprecedented battery life, and gives you add on's that no other phone company offers right now.
The Z Droid is powered by an Qualcomm Snapdragon 820 Quad Core Processor running at 22ooMHz. This combined with 4GB of ram will keep your Android version 6.0.1 running smoothly, no matter what you are doing.
If you like to keep lots of music and movies stored on your phone, you are in luck cause the Z Droid offers 32GB or 64GB of built-in storage and the ability to upgrade to 2TB of storage via MicroSD, microSDHC, or microSDXC cards. You could theoretically store all your music, pictures,  movies on this smart phone alone.
If you are the person who takes lots of pictures with your phone, you will be happy to see that Motorola has given you a 13mp camera with an Aperture size of 1.8.  While this isn't the best in class, you will still get a high quality picture you will be proud to show off to everyone. Thanks to the great camera, you can also that 4K and HD video of your kids and grandkids to post all over Facebook and YouTube. If you use your phone for video chat, you get a 5mp camera that works quite well also.
When you are watching all those home video's and movies you have on your phone, you can enjoy them on the 5.5 inch AMOLED screen. This screen gives you a pixel density of 535ppi and a resolution of 1441 x 2560. With this combination you get very clear videos with little to no halo, depending on how you have converted your videos for watching on the phone.
The battery life is one of the highlights of this phone. The 3500 mAH battery will last most of the day even with moderate use. As you can see from this video, with the battery pack on, we got over 10 hours of video watching, with life left over. We had these movies playing straight through with no stop. This is the best battery life we have gotten from a battery in testing to date.  Verizon and Motorola state you can get up to 21 hours of use from the built-in battery. While we never got this good of life, we got 12-14 hours.
To charge the phone, the plug is USB C. This is one of the few places that Motorola let the device down. The included wall charger is one single piece, it doesn't have a removable cable from the wall brick. If you want to charge you phone from a computer or in your car, you will need to buy a second cable. What's nice is that the cable is Rapid charge so you can get a full battery charge in around 1 hour.
If you like using headphones with your phone, you will have to look into Bluetooth headphones as there is no headphone jack on the Z Force Droid. Motorola does include a USB C to 3.5mm jack, but you can't charge your phone with the cable and use wired headphones at the same time. You can charge wirelessly and use headphones if you choose though.
You can also customize you Z Force Droid with different back plates. you can choose from 2 different fabric's, 3 types of wood, or leather.
Another great feature available on only the Z Droid's is interchangeable Moto Mods. You can pick from an extended battery with wireless charging, JBL SoundBoost speaker, Moto Insta-Share Projector, and  Hasselblad True Zoom Camera. Stay tuned for a review of most of those mods.
The Moto Z Force Droid runs on the Verizon Wireless LTE Advanced network. On this network you will get crystal clear HD calls and also crystal clear video calls, provided the person on the other end also has a capable phone.
Overall, the Motorola Moto Z Force Droid is the best phone out right now in my opinion. With the 2600 mAH battery, Moto Mods and massive storage, you can't go wrong. You can order your Moto Z Droid from either Verizon Wireless, or The Moto Maker site from Motorola. If you are looking for the 64 GB version, you will need to order through the Moto Maker as the Verizon site only gives you the 32 GB version. Price is $30.00 a month or $720.00 outright.  Head over to VZW.com and check the phone out now and pick yours up today.