You saw our review yesterday for the Moto Z Force Droid. Today we are reviewing one of the Moto Mods available, the JBL SoundBoost Speaker.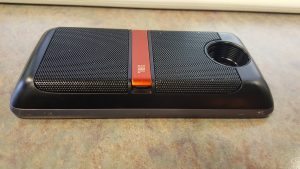 This speaker attaches to the back of your Moto Z with magnets and connects your phone to the speaker via pins on the back of the phone. The JBL SoundBoost has a built in internal battery that powers the speaker. This saves the battery in your phone. If the battery in the SoundBoost would happen to die while using it, the speaker will switch to phone power. This make the speaker last nearly as long as you want it. You can even charge the phone while using the speaker, so the battery life is infinite.
Looking at the back of the speaker, you will see the charging port. This port uses the same USB C charger as the Moto Z. There is a test button that shows wether the phone is charged or not. Below that are the pins that connect the speaker to the phone. This design allows you to connect the speaker to your phone without battery draining Bluetooth or extra wires sticking out of the device or the phone.
The front side of the speaker is black with a bright orange kick stand. This is great and allows you to watch videos and movies without holding the phone. This also lets the sound travel without being muffled or going strait into the table. There are speaker grills on either side of the kickstand to let the sound from the JBL Speakers fill the room you are in.
For those of you who want to use the SoundBoost speaker and your phone's camera at the same time, the speaker has an opening for the camera. You don't need remove the speaker.
The speakers are stereo and 3 Watts each. This gives you a total of 6 Watts of sound. The frequency response for the speakers is 200 Hz to 20 KHz. The power rating is 80 Delibes.
The JBL SoundBoost Moto Mod makes the sound from your phone many times better that the built-in speakers alone. The JBL SoundBoos Speaker will set you back $79.99 from both VZW or Motorola.
If you want your phone to have an extra audio punch, be sure to head over to your local Verizon Wireless store and check out how well it works.