OXNARD, Calif. – SCOSCHE Industries, innovators of award-winning consumer technology and car audio products and accessories, announced today the availability of its latest addition to its award-winning MagicMount™ product line: the MagicMount Wall Charger. It is specifically designed to keep consumers' mobile devices juiced up, propped up and connected.  When combined with other MagicMount products, such as the MagicMount Pro Window/Dash or MagicMount Surface, the versatile line conveniently provides users with a complete, cradle-free system for mounting their devices neatly and wirelessly while on the road or at home.
The MagicMount™ Wall Charger employs SCOSCHE's award-winning MagicMount technology to neatly dock a mobile device to a wall outlet, eliminating tangled cords and cluttered countertops. The 12W (2.4A) Perfect Charge USB port automatically detects and charges phones and tablets at the correct rate to ensure the safest and fastest charge possible each time.
The user-friendly device is built with powerful rare-earth Neodymium magnets, which will not damage the smartphone or tablet, to securely maintain a tight grip on a device. The sleek, cradle-free design also allows users to position their screen for optimal viewing. The MagicMount Wall Charger's surface is covered by a non-scratch silicon pad to prevent any marring of the device's surface. As with other MagicMount products, the wall charger ships with a large and small MagicPlate™ metal plate for mounting a mobile device to the wall charger.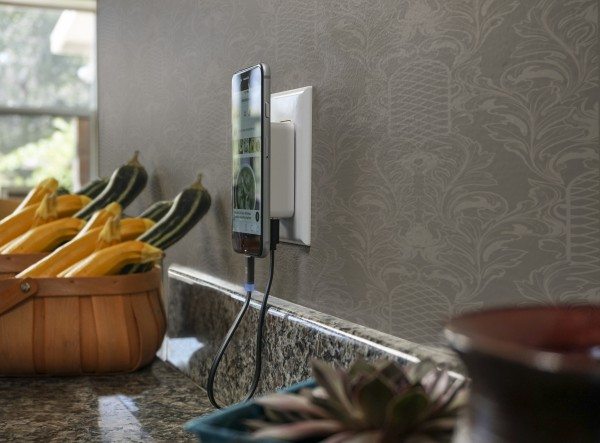 The MagicMount™ Wall Charger is available now for $29.99 MSRP at SCOSCHE.com and select retailers nationwide.
Follow @SCOSCHE on Twitter, Facebook, GOOGLE+, Instagram , Pinterest and LinkedIn for the latest news on all of the company's award-winning consumer tech and car audio products and accessories.
About SCOSCHE (pronounced sk?sh):
In its 36th year of business, SCOSCHE Industries is an award-winning innovator of consumer technology and car audio products – committed to delivering superior quality, exceptional value and unmatched customer service. The designers and engineers at SCOSCHE develop products that reflect a rich heritage in audio and mobile technologies. SCOSCHE finds inspiration in the California lifestyle, culture, music and people. These influences can be seen in the accessories and products that are now in the hands, homes, offices and vehicles of people in over 50 countries. With over 100 patents/trademarks and countless industry awards received, it is easy to see why SCOSCHE is consistently at the forefront of technology and innovation.  scosche.com
# # #