MARSHALL HEADPHONES PROUDLY PRESENTS THE NEWEST HEADPHONE TO ITS HEADPHONE FAMILY, THE MARSHALL MID BLUETOOTH. THIS PREMIUM BLUETOOTH HEADPHONE DELIVERS SUPERIOR AUDIO AND 30+ HOURS OF PLAYTIME ON A SINGLE CHARGE. ITS CUSTOM 40MM DYNAMIC DRIVERS GIVE IT A ROBUST SOUND THAT BALANCES CLARITY WITH JUST THE RIGHT AMOUNT OF BASS – PERFECT FOR THOSE WHO DEMAND THE BEST IN SOUND.
STOCKHOLM – Nov. 14, 2016 – Mid Bluetooth is the embodiment of Marshall in a headphone – complete with black leather vinyl, signature Marshall script logo, solid metal hinges and brass details. In addition to its rock 'n' roll looks, it offers a plush headband and an on-ear design that gives it a distinct look and supreme fit. Marshall Mid Bluetooth is available globally in select stores and online atMarshallHeadphones.com for $200 USD.
BLUETOOTH APTX TECHNOLOGY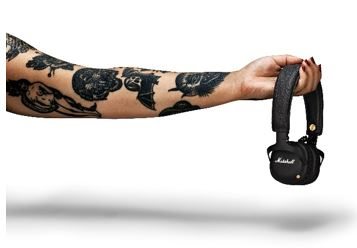 Connect wirelessly to Mid using Bluetooth aptX technology. In addition to blasting your favorite tunes in CD-like audio quality, Bluetooth aptX also minimizes audio and video syncing issues, allowing you to watch movies without experiencing horrible lip sync. Mid Bluetooth gives you the freedom to move with up to 30 feet of wireless listening range, leaving other Bluetooth headphones in the dust.
OVER 30 HOURS OF WIRELESS PLAYTIME
Mid keeps the music going strong with 30+ hours of wireless playtime on a single charge, leaving the competitors in the dust. In case you ever find yourself low on power, simply plug the detachable 3.5mm cord into the empty socket or use the included micro USB charging cable to recharge the battery.
ONE BUTTON TO RULE THEM ALL
With the multidirectional brass control knob you can play, pause, shuffle and adjust the volume of your device, as well as power your headphones on or off. Phone compatibility is also included, so you can wirelessly answer, reject or end a call with a few simple clicks. Two built in passive noise reduction microphones allow you to have conversations and record voice memos through your device.
TECHNICAL INFO

TRANSDUCER: 40 MM, DYNAMIC • IMPEDANCE: 32 OHM • FREQUENCY RANGE: 10 HZ-20 KHZ • SENSITIVITY: 100 MV @ 1 KHZ = 95 DB SPL
ABOUT MARSHALL HEADPHONES
Marshall is a true rock legend. That uniquely clear and expressive sound combined with a mythical stage presence has enraptured music fans around the world for five decades. We're celebrating the brand's rich heritage with commemorative products that live and breathe Marshall.
The legacy begins in a small drum shop in Hanwell in the 1960s, where Jim Marshall sought to give a bunch of then-local guitarists the sound they wanted – a sound that was harder, crunchier and richer. The result was the JTM45, an amp that reverberated with a sound that was much heavier than anything ever heard before. In a twist of rock and roll fate – those guitarists, much like the Marshall name, would go on to revolutionize music forever.