OXNARD, Calif. – SCOSCHE Industries, innovators of award-winning consumer technology and car audio products and accessories, releases the latest in its line of waterproof wireless speakers: the BoomBUOY. Optimized for Outdoors® and ready for adventure, the BoomBUOY features a rugged, durable construction and high quality audio with up-firing Omni-directional sound, sending music in all directions.
The BoomBUOY boasts a 3W 50mm high quality speaker and passive radiator to produce rich, clear sound while camping or enjoying a day at the pool. The IP67-rated dust and waterproof speaker also features a buoyant construction that allows it to float in water, and integrated side panel control buttons to easily play/pause, skipping tracks and volume control.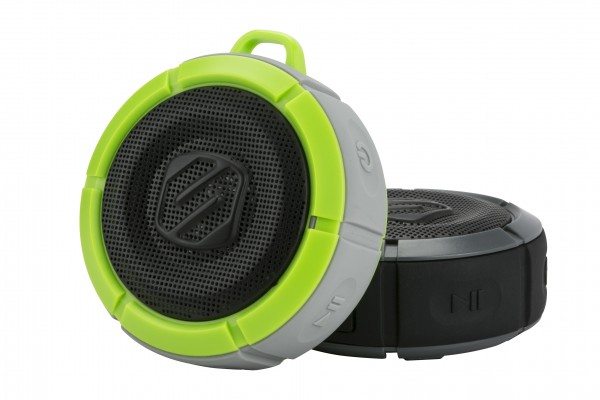 Additional essential features include a rechargeable Lithium-ion battery that provides up to 7 hours of playtime, a carbineer to conveniently attach the speaker to a backpack for on-the-go listening and an included Micro USB cable. It also comes pre-charged, so users can use it right out of the box.
The BoomBUOY is available now in Black/Space Grey and Tech Sport Grey for $39.99 MSRP atSCOSCHE.com and select retailers nationwide.
Follow @SCOSCHE on Twitter, Facebook, GOOGLE+, Instagram , Pinterest and LinkedIn for the latest news on all of the company's award-winning consumer tech and car audio products and accessories. And check out our Blog for informative articles on emerging technologies, as well as our products.
About SCOSCHE (pronounced sk?sh):
Founded in 1980, SCOSCHE Industries is an award-winning innovator of consumer technology and car audio products – committed to delivering superior quality, exceptional value and unmatched customer service. The designers and engineers at SCOSCHE develop products that reflect a rich heritage in audio and mobile technologies. SCOSCHE finds inspiration in the California lifestyle, culture, music and people. These influences can be seen in the accessories and products that are now in the hands, homes, offices and vehicles of people in over 50 countries. With over 100 patents/trademarks and countless industry awards received, it is easy to see why SCOSCHE is consistently at the forefront of technology and innovation.  scosche.com