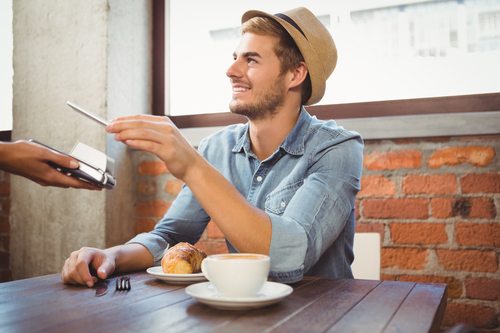 As the holiday shopping season unfolds, mobile payments are becoming an increasingly important part of the shopping experience. PayPal predicts that mobile payments will be bigger than ever this shopping season, with Cyber Monday seeing $25,000 in Total Payment Volume per second flowing from mobile shoppers that day. 40 percent of millennials are expected to make a purchase on a mobile device the Monday after Thanksgiving. 59 percent of Americans say they will do mobile shopping while binge-watching television, 34 percent from bed, and 22 percent from the bathroom. With mobile payments becoming such a major part of holiday shopping, mobile security is becoming more important than ever as well. Here are some of the latest trends in mobile payment technology, along with some tips for how you can stay safe while shopping from your smartphone this season.
Mobile Payment Trends
Mobile wallet usage has grown steadily since 2014 when Apple Pay entered the market, causing industry watchers to wonder if this was Apple's next big thing. Since then, Samsung, Google, Microsoft, Chase, Citi, Walmart and Kohl's have all rolled out their own mobile wallet apps, vindicating the perception that Apple was onto something big. This year, mobile payment volume will reach $75 billion, Business Intelligence projects; by 2020, this figure should reach $503 billion.
Most mobile payment solutions currently use near field communication (NFC), which emits a radio frequency field that enables a credit card reader to communicate with a smartphone up to 2 inches away. However, with the rise of wireless technology, many industry watchers anticipate that future mobile payment devices will use Bluetooth, which can exchange signals over 150 feet away.
In the United States, PayPal currently leads among mobile payment apps, followed by retailer apps from vendors such as Starbucks and Dunkin' Donuts, Apple Pay, Android Pay, Chase Pay and Samsung Pay. However, merchants are requesting Apple Pay most often, indicating that usage of this app will grow in the near future. Usage of mobile payment apps will grow as much as 150 percent over the next five years, says Parks Associates research analyst Chris Tweedt.
Keeping Your Mobile Payments Secure
The popularity of mobile payments has created new security concerns. Hackers are likely to probe systems for vulnerabilities in mobile apps that can be exploited, following the example of thieves who uploaded stolen credit card information to Apple Pay accounts without bank verification in order to make fraudulent in-store purchases, says SEWORKS digital security expert Min-Pyo Hong. One vulnerability likely to be exploited is mobile browsers, since bypassing these can enable a hacker to circumvent a smartphone's system-level security safeguards. Hackers at this year's PwnFest recently uncovered vulnerabilities in the Google Chrome, Apple Safari and Microsoft Edge browsers. Eavesdropping on information transmitted over insecure networks is another method thieves are exploiting.
To help protect yourself from these risks, you should follow some basic best practices when making mobile payments, says John Rampton, founder of online invoicing company Due. Keep your device and accounts protected by a strong password, using strong passwords and changing them frequently. Use two-factor authentication methods such as fingerprint or retina scanning to add a layer of security to your device in the event it is lost or stolen. Only send mobile transactions over secure networks protected by encryption, such as a VPN with SSL connections, and avoid public Wi-Fi networks. Stay updated on the latest browser updates and security patches, and use antivirus software. Keep up with the news on the latest security threats so you know what type of phishing attacks and other scams to watch out for.
Contingency Plans for Security Breaches
Despite your best efforts, you may find yourself in a situation where your mobile payment security has been compromised. To prepare for this possibility, you should have a contingency plan in place. Install a remote wipe app on your device so you can wipe your data out if you suspect your phone has been stolen. Sign up for a financial protection service such as LifeLock Ultimate Plus to alert you in the event your identity is stolen and help you recover your assets if you become a victim of cybercrime. Making mobile payments without this type of protection is like driving a car without insurance. If you suspect your mobile payment account has been compromised, alert your provider and the local police immediately.