Hicksville, NY – Samson, a leader in professional live and studio audio products, today announces the new QH4 4-Channel Headphone Amplifier, available December 2016. The QH4 is designed to distribute audio to up to four individual headphones, each with its own volume control making it perfect for tracking multiple performers in a studio, podcast recording or recreational music listening. Its compact design makes the amplifier ideal for use with any studio or desktop workstation, as well as with laptops or smartphones when recording on-the-go.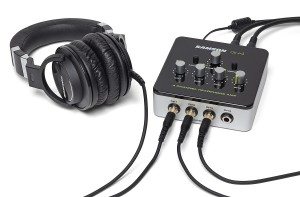 Samson's QH4 includes stereo 1/4" inputs to connect with your mixing console or studio interface and a stereo 1/8" Aux In for playing music via smartphone or MP3 player. Individual headphone outputs allow users to connect up to four headphones, each with independent volume control over each channel and a Master volume control for overall level adjustments. Also included is a stereo 1/8" Aux Out for daisy chaining multiple QH4s together and a master Mute button for silencing all outputs.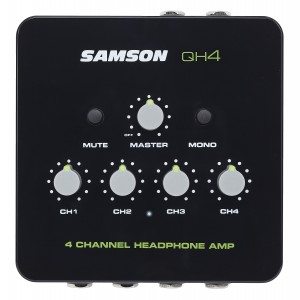 Combine stereo channels using QH4's key feature, the Mono button, before audio is outputted to headphones, allowing listeners to check for phase issues, mono compatibility or when monitoring tracks that are split left and right. The Mono button also allows you to take a split left and right feed from a stereo interview and send both tracks to each side of your headphones, an ideal feature for quickly monitoring a podcast or recording with split tracks.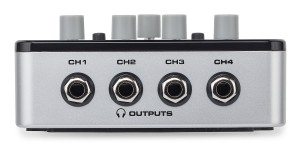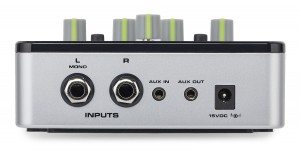 The Samson QH4 will be available this December 2016 for $69.99.
QH4 Features
4-channel stereo headphone distribution amplifier
Four independent 1/4" stereo headphone channels
Individual volume control on each headphone channel
Two balanced 1/4" input connectors
Stereo 1/8" Aux input and output
Master Mute and Mono-summing switches
QH4 Specifications
Inputs: 2 x 1/4" balanced, stereo 1/8" unbalanced TRS
Outputs: 4 x stereo 1/4" unbalanced, stereo 1/8" unbalanced TRS
Controls: Master volume, master Mute, master Mono, 4 x Channel volume
Noise Floor: -114dBu, 22k BW unweighted
Maximum Output: 8.3dBu, 1% THD+N, loaded 16R
Dynamic Range: 22dB, 22k BW
Frequency Response: 17Hz–47kHz (-3dB)
Power: 15VDC adapter
# # #
About Samson Technologies
Samson Technologies began in 1980 as a pioneer in wireless microphone technology. Today, Samson is an industry leader in professional audio solutions whose products are known for their fidelity and reliability. Samson products are preferred by recording artists, performers, educators and audio professionals throughout the world.
To connect with Samson, visit samsontech.com, Facebook, Twitter, Instagram or Pinterest. For more information on Samson's full line of wireless and audio products, media members may contact the following: