SAN DIEGO – (Nov. 22, 2016) – Satechi, a brand known for blending form and function to create useful desktop solutions, introduces the Smart Charging Stand – a multifunctional four-port USB charger. The versatile Smart Charging Stand features one internal USB charging port and three USB ports on the base of the stand.  The stand includes three adapters for Apple Watch®, Fitbit Blaze™ and smartphones, for maximum compatibility with most USB-powered devices. Simply choose the required adapter, fasten it to the station lid, and juice up any device with ease.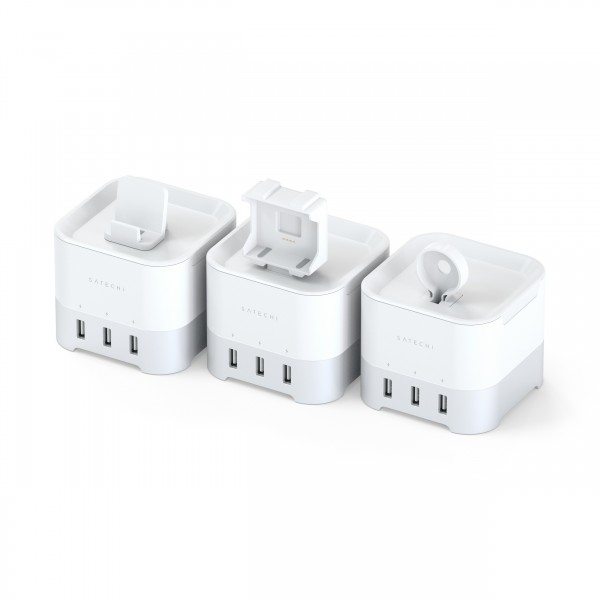 Designed with convenience in mind, Satechi's Smart Charging Stand allows users to simply place their device atop the stand for hands-free access while it charges.  When charging the Apple Watch®, the Smart Charging Stand's flat upper surface allows for Nightstand Mode, to easily access and use the watch while charging.

Equipped with Smart Charging Technology, Power and Voltage Boost combine to charge up to 5V/2.4A max per port, for a total of 6 Amps. Satechi's Smart Charging Stand automatically detects each port's plugged in device, providing the fastest and most efficient charge possible for each device, without delay.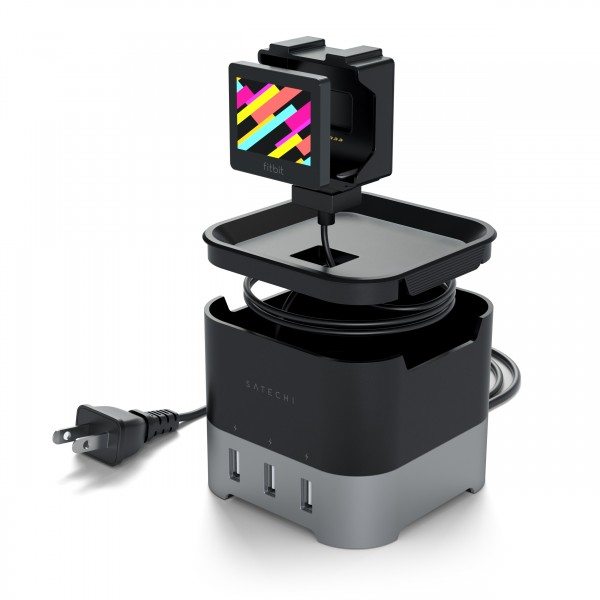 Designed with functionality and organization in mind, the inner space of the Smart Charging Stand is ideal for storing smaller gadgets, such as USB adapters and card readers. It also helps conceal charging cables, for a neat and manageable nightstand or desktop space.
The Smart Charging Stand is available now in Gold, Silver or Space Gray for $34.99 at Satechi.net and Amazon.com.
For more information on the Smart Charging Stand and all of Satechi's award winning products, "like" Facebook.com/Satechi and follow @Satechi on Twitter and Instagram.
About Satechi:
Satechi believes that technology should be limitless, timeless, and forever evolving to fit your modern lifestyle. The brand produces tech products and accessories that make everyday life more convenient for the fast-paced world we live in. Satechi strives for efficiency without compromising style. Each Satechi product is made with tough and durable materials, while still maintaining a sleek design perfect for the contemporary individual. For more information, please visit www.Satechi.net.