SAN DIEGO, Calif. – Grace Digital Inc., the leading manufacturer of award winning Wi-Fi, Bluetooth, portable and home audio systems, launches its newest streaming radio, offering today's generation the highly demanded ability to tune into their favorite stations on SiriusXM®.
The SiriusXM® Sound Station is an excellent option for subscribers who want to listen in the home or office. It sets up easily on any tabletop or desk and makes a worthy addition to any décor with its matte black finish and minimalistic aesthetic. Despite its portability, the Sound Station features a large color display to showcase album art and channel information for easy viewing. Users can customize the music played on many of their favorite channels by using the MySXM feature, which allows them to create a more personalized listening experience, and can also go back up to five hours and listen to certain shows from the beginning with the "Start Now" capability. The Sound Station can play from SiriusXM's selection of On Demand content, and also gives listeners the ability to pause, rewind and replay live programming.
The Sound Station is fully customizable, select ten of your favorite channels to quickly access when streaming. Set it up anywhere in your home using a Wi-Fi connection or an optional Ethernet adapter for a wired high-speed internet connection. Additional features include multiple alarms, sleep and snooze timers and an integrated clock to keep consumers on track and connected, whether at home or at work. It also includes a remote control to utilize when at a distance or entertaining guests.
Like all radios and speakers in the Grace Digital line-up, the SiriusXM® Sound Station delivers powerful, full-range sound with an adjustable equalizer. It offers truly room-filling sound and clear audio for enjoyable soundtracks to your daily life.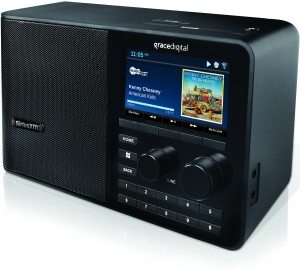 "By releasing a Wi-Fi table radio in collaboration with SiriusXM®, we're offering today's generation of consumers a unique and easy way to stay connected to their favorite shows and channels, live events, concerts and more," commented Greg Fadul, Grace Digital's CEO. "The SiriusXM platform has drastically increased over the years so to keep on trend with ensuring our customers have a full gamut of connectivity options, we wanted to be sure SiriusXM was on the roster."
"This terrific new product from Grace Digital offers room-filling sound, a compact and modern design, and a vivid display to create a rich listening experience for our subscribers," said Dave Horoschak, SiriusXM's Director of Connected Home Product Management.  "The Sound Station gives our listeners, many of whom listen to our content in the car and on their mobile devices, another option to enjoy our world class music and programming with high fidelity sound in their home, office, or anywhere an internet connection is available."
Grace Digital's SiriusXM® Sound Station is available now for $129.99 at www.gracedigital.com,www.shop.siriusxm.com, Amazon.com and other select retailers.
###
About Grace Digital Audio:
Based in San Diego, California, Grace Digital Audio provides a family of audio products with the highest levels of quality, support and service. From wireless internet radios to indoor/outdoor wireless speakers, Grace provides audio solutions for every situation. Grace's innovative iPhone & iPod Touch application allows users to control their entire Grace audio system with one convenient control. Grace sells its products through major retailers, ecommerce sites, dealers and distributors throughout North America. To learn more about Grace Digital products please visit them at www.gracedigital.com.
About SiriusXM:
Sirius XM Holdings Inc. (NASDAQ: SIRI) is the world's largest radio company measured by revenue and has approximately 31 million subscribers. SiriusXM creates and offers commercial-free music; premier sports talk and live events; comedy; news; exclusive talk and entertainment, and a wide-range of Latin music, sports and talk programming. SiriusXM is available in vehicles from every major car company and on smartphones and other connected devices as well as online at siriusxm.com. SiriusXM radios and accessories are available from retailers nationwide and online at SiriusXM. SiriusXM also provides premium traffic, weather, data and information services for subscribers through SiriusXM Traffic™, SiriusXM Travel Link, NavTraffic®, NavWeather™. SiriusXM delivers weather, data and information services to aircraft and boats through SiriusXM Aviation, SiriusXM Marine™, Sirius Marine Weather, XMWX Aviation™, XMWX Weather, and XMWX Marine™. In addition, SiriusXM Music for Business provides commercial-free music to a variety of businesses. SiriusXM holds a minority interest in SiriusXM Canada which has approximately 2.8 million subscribers. SiriusXM is also a leading provider of connected vehicles services, giving customers access to a suite of safety, security, and convenience services including automatic crash notification, stolen vehicle recovery assistance, enhanced roadside assistance and turn-by-turn navigation.