New York – Hercules, known for its line of wireless speakers, is thrilled to announce the launch of its new outdoor Bluetooth speaker, taking innovation and design to a whole new level with the WAE Outdoor 04Plus FM.
Riders asked for more, and Hercules answered with the WAE Outdoor 04Plus FM: a brand-new audio powerhouse with a built-in FM tuner tucked away inside the speaker. It's built tough to keep riders company wherever their sports take them – at skate parks and BMX tracks, on mountain bike trails, or just doing their thing out in the street.
Hercules takes special pride in listening to athletes, learning about their needs and turning their dreams into reality. The latest result of this ongoing collaboration is the new addition to Hercules' award-winning WAE Outdoor line. With better performance than ever before and boasting a super-ergonomic design, the WAE Outdoor 04Plus FM wireless speaker provides the soundtrack no matter where your rides take you. Mixing music and sports is truly a thing of beauty.
Many top-level athletes are proud to fly the WAE flag, and use Hercules Outdoor wireless speakers every day.
Check out the Hercules WAE worldwide brand ambassadors at http://shout.lt/bJ0pb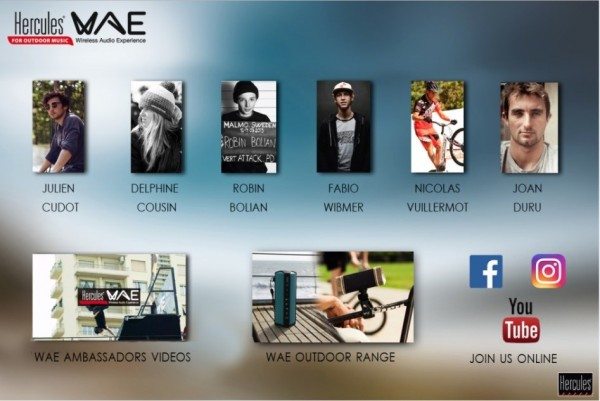 Specially designed to be used outdoors and in extreme conditions
The new WAE Outdoor 04Plus FM can take the toughest things you can throw at it: impacts, asphalt, rain, snow, dust – even mud! In fact, it just can't get enough.
IP67-certified
The WAE Outdoor 04Plus FM is completely immersion-resistant (for up to 30 minutes at a depth of 3.3 feet/1 meter), and is also fully protected against mud and even the finest dust particles. With its rock-solid design, cushioning rubber end-pieces, protective metal grille and reinforced access hatch for its connectors, the speaker provides excellent resistance against impacts and all kinds of extreme use conditions.
Mobile and light on its feet
Featuring a standard-size screw thread, this mobile and versatile speaker easily attaches to any of your favorite mounting accessories: bike mount, suction cup mount, tripod, and more. It's also extremely lightweight (weighing in at just 0.66 pounds/300 grams), allowing you to bring it anywhere without a second thought.
Powerful, stunning sound optimized for outdoor conditions
Despite its compact size designed to accompany riders wherever they go, the new WAE Outdoor 04Plus FM pumps out clear and powerful stereo sound, specifically optimized for outdoor conditions – including wind and other distracting noises. It incorporates a single-unit 2.0 speaker along with a passive decompression driver.
Enjoy total freedom with a built-in FM tuner
The WAE Outdoor 04Plus FM lets you listen to music in any situation with its built-in FM tuner. The speaker not only lets you stream music wirelessly from any Bluetooth-enabled device, but also listen to FM radio stations completely on its own in places where you might not want to bring your smartphone along for the ride.
With the built-in FM tuner, you can listen to your favorite stations and all the latest hits wherever you find yourself in the world – without the need to lug any extra equipment around with you.
Providing a whopping 18 hours of battery life in FM radio mode, the WAE Outdoor 04Plus FM is a rider's best friend.
A thing of beauty
With its understated yet attractive color scheme and elegant ergonomic design, this new WAE Outdoor wireless speaker is a great-looking accessory that seamlessly blends in with the look of urban riders.
Get yourself connected
The WAE Outdoor 04Plus FM is truly a connected device with the custom WAE app: your streaming accounts are all plugged right in, preset radio stations are at your fingertips, and you can even set the speaker to power on at a given time and wake you up like an alarm clock!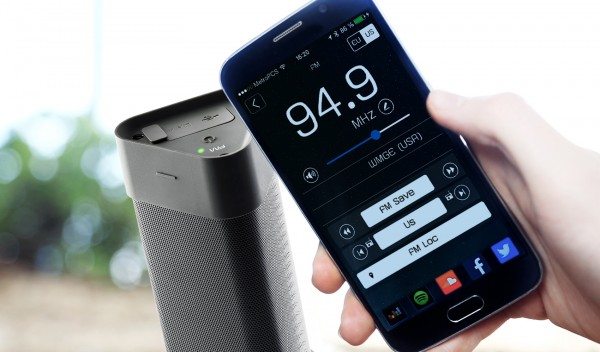 The WAE Outdoor 04Plus FM is now available at a suggested retail price of $79.99 at this link. Hi-res images can be found here. For more information on other Hercules products, please visit:http://www.hercules.com.
# # #
About Guillemot Corporation: With its Hercules brand, Guillemot Corporation uses the best technological know-how to design and manufacture audio solutions for music fans. Active in the digital audio market for more than 30 years, the Guillemot Corporation Group is currently present in 11 countries (France, Germany, Spain, the UK, the United States, Canada, the Netherlands, Italy, Belgium, China [Hong Kong] and Romania) and distributes its products in more than 85 countries worldwide. The Group's mission is to offer high-performance, ergonomic products which maximize the enjoyment of digital interactive entertainment end users. www.guillemot.com