Super Bowl Weekend isn't just about the game on Sunday. Football fans want to capture everything that happens all weekend – from the exciting events at Super Bowl LIVE presented by Verizon to every first down and touchdown during the game.
Staying connected with a Texas-sized network
The ways people experience big events like the Super Bowl are different than they were just a few years ago. To make sure our customers can capture and share all of their Super Bowl experiences, Verizon made numerous enhancements to our local network:
increased wireless data capacity and coverage by 450 percent at NRG Stadium, Super Bowl LIVE, and transportation hubs, hotels and popular tourist areas in and around Houston.
installed more than 220 permanent small cells, 24 Nodes on Wheels (NOWs), and 23 new permanent cell sites at other key locations.
deployed LTE Advanced technology – the most advanced wireless technology available – throughout the Houston area.
All these enhancements mean our customers will have the best wireless technology in the palms of their hands as they experience everything Super Bowl Weekend has to offer. This investment in our Houston-area network is permanent so residents, businesses and visitors will enjoy the benefits for years to come.
Giving back
To say thank you and give back to the host community, Verizon has teamed up with the NFL to host a series of local sustainability initiatives, including several Urban Forestry projects –tree planting at MacGregor Park, pollinator planting at Houston Zoo, and reforestation at Bastrop State Park; a public E-Waste Recycling Rally; and a Super Kids – Super Sharing book and sports equipment donation project. In all, over 12,000 additional trees will be part of the green legacy of Super Bowl 51 in the Houston area.
As part of its longstanding commitment to ending domestic violence, Verizon, in partnership with the NFL, is hosting the Unsung Heroes luncheon for advocates within the Houston-area domestic violence community. During the event, attendees will discuss ways they can partner together to create safe environments for individuals affected by domestic violence. HopeLine by Verizon is also making a $45,000 donation to the Houston Area Women's Center.
Super Bowl LIVE presented by Verizon
Attendees can also experience the latest in Virtual Reality (VR) and Augmented Reality (AR) at Super Bowl LIVE.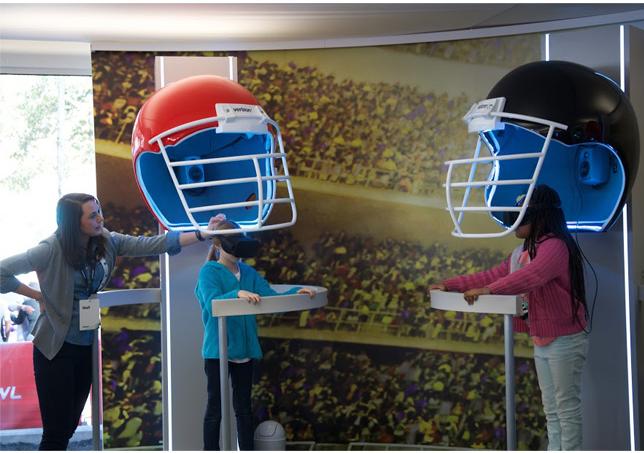 Fans can check out:
Virtual Gridiron: Fans compete in a virtual head-to-head matchup for a unique football experience.
Field Goal Kicker: Fans can test their kicking skills with this augmented reality Field Goal game, created by VZ Labs and powered by envrmnt.
360° Live Cameras: RYOT will be producing and live-streaming 360° player sessions. These will be shown on the Super Bowl LIVE App and powered by the envrmnt platform.
These mobile experiences can use a lot of "juice." A digital kiosk named "Palo" will be installed in front of the fan zone area to provide attendees with free phone charging housed within a community "tech hub." The hub offers a user touchscreen experience with exclusive content, public safety features and way-finding solutions along with the ability to make free phone calls.
From touching down in Houston to watching every touchdown on the field, we want to ensure our customers have a great Super Bowl LI experience. Only 5 more days until kick off!