OXNARD, Calif. – SCOSCHE Industries, innovators of award-winning consumer technology and car audio products and accessories, announces the availability of its new, versatile USB-C Hub – the USB-C Digital AV Multiport Adapter (part number: CMPA).
SCOSCHE's USB-C Hub features three ports, which each provide essential functions for new Type-C devices. One port is an HDMI connection that allows users to mirror the MacBook display to an HDMI-enabled TV or display up to 4K HD. Additionally, it outputs video content such as movies and captured video. Simply connect the adapter to the Type-C port of the MacBook or other USB-C device and then to a TV or projector via an HDMI cable.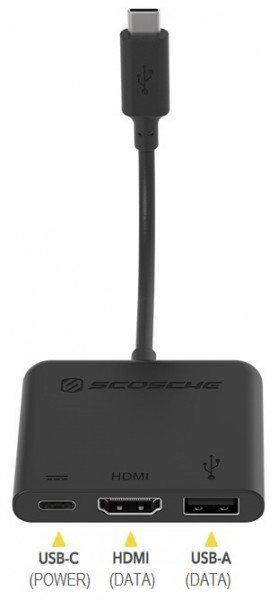 The USB-C Hub also has a Type-A port, allowing users to connect older peripherals and computer accessories, such as flash drives and cameras, to the new Type-C MacBook. The Type-A port on the adapter also lets users charge and sync their iPhone, iPad or iPod. For added convenience, the third USB port on the adapter (USB-C) permits pass-through charging of MacBook's or other Type-C computers even when the other ports are in-use.
With the USB-C Hub – USB-C Digital AV Multiport Adapter, you get fast data transfer speeds with support for USB-C (Type-C) power input.
The USB-C Hub is available now for $59.99 MSRP at SCOSCHE.com and select retailers nationwide, and comes with a 3-year warranty.
Follow @SCOSCHE on Twitter, Facebook, GOOGLE+, Instagram, Pinterest and LinkedIn for the latest news on all of the company's award-winning consumer tech and car audio products and accessories. And check out our Blog for informative articles on emerging technologies, as well as our products.
About SCOSCHE (pronounced sk?sh):
Founded in 1980, SCOSCHE Industries is an award-winning innovator of consumer technology and car audio products – committed to delivering superior quality, exceptional value and unmatched customer service. The designers and engineers at SCOSCHE develop products that reflect a rich heritage in audio and mobile technologies. SCOSCHE finds inspiration in the California lifestyle, culture, music and people. These influences can be seen in the accessories and products that are now in the hands, homes, offices and vehicles of people in over 50 countries. With over 100 patents/trademarks and countless industry awards received, it is easy to see why SCOSCHE is consistently at the forefront of technology and innovation.  scosche.com