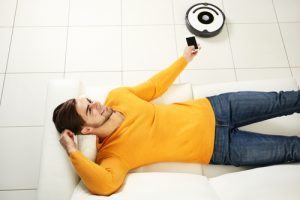 While some people carefully arrange outfits for each day of the trip, others organize gadgets and charging cables for the drive or flight. Whatever your pre-vacation routine, do you include getting your house ready?
The FBI reported that a property crime occurred every 3.8 seconds in 2014. Protecting your home against burglaries is a top priority, but there are other factors to consider, too. Maybe you left a light on or forgot to close the garage door before you left the house. Not too long ago, those errors could have cost you, but now there is easy, affordable tech to completely prepare your home for time away.
Here are four home solutions to help give you peace of mind.
1. Smart Thermostat
Most people simply turn off their heating or air conditioning during a vacation to save money, but that isn't always an option during freezing winters or scorching summers when extreme heat or cold could damage items in the house, or worse, burst pipes. Smart thermostats, such as the Nest, connect to your smartphone via Wi-Fi so that you can control the temperature while you're away. So imagine you're leaving your home in Arizona during the summer, where it's 110 degrees during the day. The Nest can set the temp to a safe and affordable 90 degrees during the trip and have it back down to the 70s before you walk through the front door.
2. Security & Home Automation
Lights, security cameras, garage doors and even window shades can now be controlled with some sort of remote automation. Security company ADT offers comprehensive home automation services (which also work well with the Nest) to manage and monitor all of your home automation products. A home security system is a good idea regardless, so to have that same company cover home automation just makes the process even easier.
3. Cleaning Services
This amenity has nothing to do with safety and everything to do with comfort. Preparing for a trip can be so hectic that it's sometimes impossible to keep the house clean before walking out the door. Consider having a cleaning company come in and tidy up while you're away (which can sometimes cost less than $100 for a medium-sized apartment). If you're wondering what a cleaning crew has to do with tech, MaidsApp is the easy way to make it all happen from your smartphone. You'll come home from a wonderful trip to a clean home! And instead of worrying about the mess you made while getting ready for your trip, you can just concern yourself with unpacking and planning your next getaway.
4. Roomba
If you travel weekly for work and a cleaning crew is too expensive on a regular basis, consider the Roomba robot vacuum. The disc-shaped vacuum cleaner won't clean your toilets or do the dishes, but it will scour the floors on its own, making sure that you come home to clean floors and carpets every week.
Keeping your home safe and clean doesn't have to be stressful with some easy-to-implement technology.