Austin, Texas – March 29, 2017 – CM4, designer of premium mobile accessories, today announced its Q Card Case is now available for the new Samsung Galaxy S8 and S8+ phones. The wallet case comfortably fits three cards plus cash in a durable and elegant design. The Q Card Case marries the essentials of a wallet to the form factor of your Galaxy 8 and 8+ for the ultimate convenience and protection.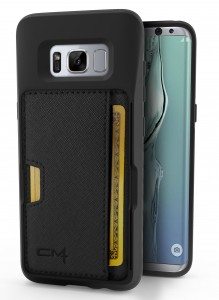 The Q Card Case features a patented soft-touch rubber grip and premium fabric construction for a stylish one-of-a-kind wallet case that eliminates bulk to carry only what you need. Protective air cushioned corners absorb and disperse shocks away from phone. High-grip textured sides enhance grip to prevent slipping and drops. The Lay-Flat Screen Guard design provides ultimate screen protection and confidence of knowing you can safely lay your phone face down on flat surfaces without scratching the screen, while the Natural Throw buttons maintain tactile feedback with your Samsung phone. The innovative Credit Card Kickstand allows you to use a credit card or ID card to prop your phone into two viewing angles for convenient video watching on the go.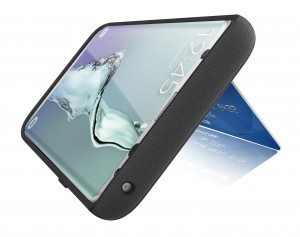 The Q Card case for Samsung Galaxy S8 and S8+ is available in Black Onyx for $24.99. The ultra-slim case includes a microfiber cleaning cloth and a lifetime warranty. Q Card Cases for Galaxy 8 and S8+ are available to order at www.cm4.com/qs8-amazon and www.cm4.com/QS8.
About CM4
CM4 is a premium brand that manufactures products designed to enhance user experiences. With a mission to expand and evolve the devices we use to interact with life, CM4 offers high quality, distinct design, superior functionality and unique innovation as an alternative to cheap products that are merchandised and marketed at consumers, rather than designed for consumers. For more information about CM4 and its products, please visit www.cm4.com. Connect with CM4 on Facebook atfacebook.com/whatisCM4 and on Twitter at @whatisCM4.