Milano – V-MODA, the award-winning manufacturer of the world's finest high-fidelity audio devices, unveils Crossfade 2 Wireless Over-Ear headphones. Building on the success of V-MODA's original Crossfade M-100 and Wireless headphones that have won 29 editors' choice and best headphones awards, the new model raises the bar in sound quality with Hi-Res Audio certification, larger cushions, new colors, longer battery life and the iconic CliqFold™ design.
"V-MODA's Crossfade headphones are the epitome of versatility," says Val Kolton, CEO of V-MODA. "Once people own a truly great set of our headphones, they use them constantly in various use cases. And whether you are critically listening, producing music, DJing, gaming, watching movies or even working out, Crossfade 2 Wireless delivers on every level. How you connect them is irrelevant – you will love what you hear."
Next Level V-MODA Sound Quality with Hi-Res Audio Certification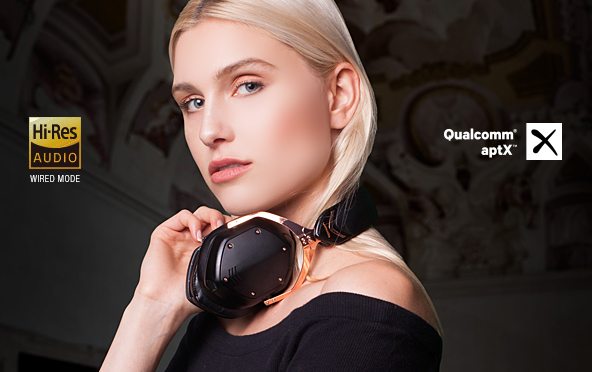 Powered by brand new dual-diaphragm 50mm drivers using a hi-resolution CCAW coil that is "Made in Japan", Crossfade 2 is certified by Japan Audio Society (JAS) to Hi-Res Audio standard in wired mode. With an extended frequency range from 5Hz to 40kHz, you can now connect to a lossless music service or 24bit/96kHz playback sources and experience an increased dynamic range, with more precise and sparkling high-frequency definition.
Uncompromised quality means staying true to the Crossfade's award-winning signature sound whether rocking out plugged-in or cord-free. Simply pair the Crossfade 2 Wireless to a Bluetooth® device and enjoy the headphones up to 33 feet (10 meters).
The Rose Gold model features Qualcomm aptX audio codec for near CD-quality sound over Bluetooth which allows for the best wireless listening experience available. Click here to discover how to see what codec your notebook is streaming Bluetooth audio.
A Traveler's Delight: CliqFold Mechanism and Exoskeleton Hard-shell Case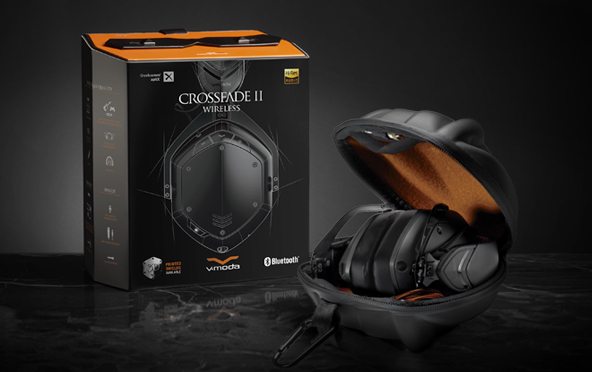 Crossfade 2 Wireless is built to travel, thanks to the innovative patent-pending CliqFold design that folds down to fit into the deceptively small travel case, offering protection from the rigors of the road. With newly added vents (V-PORT™) to ensure that air can circulate within to let the headphones breathe after a live performance or a workout, the case also has room to store charging and audio cables along with other extras like USB drives and earplugs.
Larger Cushions for Best Sound, Supreme Comfort and Negligible Noise Leakage
The new memory foam features enhanced comfort and size for all ears. Hundreds of prototypes with small variances were tested by V-MODA's CEO for over three months to perfect every fine detail of the cushions as the "fit is the sound".
Through premium design and components, Crossfade 2 Wireless naturally achieves great analog noise isolation and a pure 3D soundstage without resorting to the active noise cancellation that can pollute pure sound. Although active noise cancellation reduces the perceived background noise, it adds extra sound pressure at the expense of sound quality. Using larger, deeper cushions with an adjustable Steelflex™ headband that naturally contours to fit your head, Crossfade 2 Wireless keeps the bad noise out and the good noise in.
Control Music and Calls Via Cable or Built-in Mic
The concealed microphone is optimized for phone calls and voice recognition, which is made easier still with the inclusion of a rugged Kevlar-reinforced SpeakEasy™ cable for wired use.
Crossfade 2 Wireless can even pair with two sources at the same time, for example if at work using laptop or smartphone, or working out using smartphone and smartwatch. The antenna is tuned to work flawlessly with smartwatches' built-in Bluetooth music players. V-MODA's CEO rigorously tested and tuned the antenna for smartwatch Bluetooth performance using nearly every Apple and Android™ watch on the market.
Premium Materials, Military-Standard Build Quality and Exciting New Colors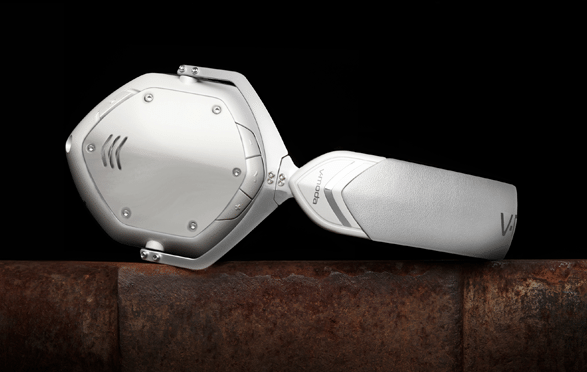 As with all V-MODA's products, durability and exquisite material selection was paramount in the design. Crossfade 2 Wireless retains the luxurious combination of steel and metal materials along with improved vegan leather that lives up to the military-standard MIL-STD-810G testing guidelines. The cables are tested and reinforced to bend over 1 million times, up to 100 times the industry standard.
Style has also been upgraded on Crossfade 2 which brings back the fans-favorite color Matte Black (unavailable on the first version) and two all-new luxurious colors: Matte White and Rose Gold.
Customize your Headphones and Endorse Yourself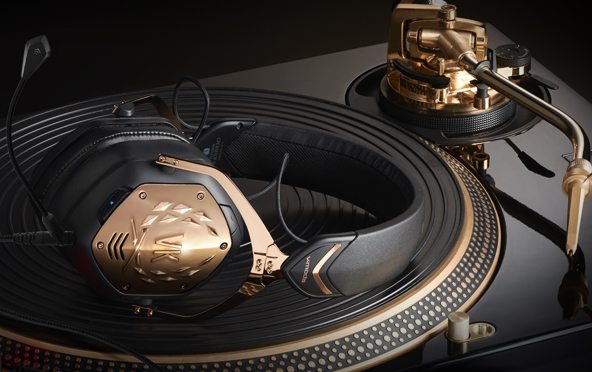 Crossfade 2 Wireless is compatible with V-MODA's popular accessory ecosystem, so you can own a set of headphones that completely fulfill your needs. The accessory collection includes: 3D printed shields; laser-engraved aluminum shields; BoomPro Mic for gamers, calls and broadcasters; XL cushions; CoilPro cable; 1/3-button Speakeasy cables; VAMP DAC/AMP; and the newly released REMIX® headphone amplifier + Bluetooth speaker.
Listen from Sunrise to Sunset – and Beyond
The rechargeable lithium-ion battery is 15% bigger than the previous version and provides up to 14+ hours of continuous music, entertainment and calls. But unlike most Bluetooth headphones, you can carry on listening with the same sound even when the battery is dead. Plugging in the supplied cable instantly switches the headphones to pure analog mode, which deactivates all onboard electronics for situations where zero latency is important – essential for DJs, musicians, gaming and VR. Once near a power socket, use the included elegant V-Micro USB cable to fully recharge in around two and a half hours.
Crossfade 2 Wireless product specifications:
Drivers: 50mm Dual-Diaphragm (patent pending)
Frequency Response Wired: 5 – 40,000 Hz
Headphone Sensitivity: 100 dB @ 1kHz 1mW
Speaker Sensitivity: 107 dB @ 1kHz 1mW
Microphone Sensitivity: -42 dB @ 1kHz
Impedance: 32 ohm
Weight: 309g (with standard aluminum shields)
Battery Capacity: 430mAh (up to 14+ hours music playback)
Cable: 1-Button Reinforced SpeakEasy Microphone 3.5mm cable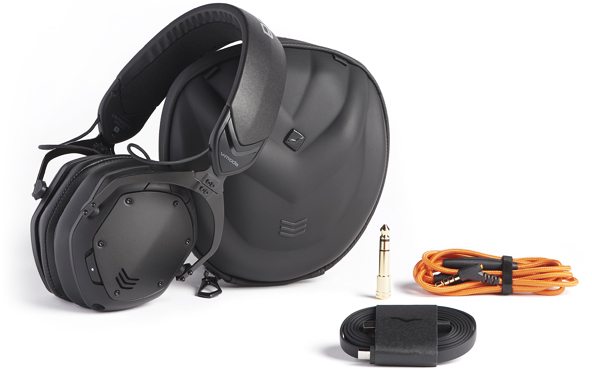 What's included with Crossfade 2 Wireless?
Crossfade 2 Wireless
Exoskeleton carry case and 2 V-PORTs
Carabiner clip
¼ inch Pro Adapter
Reinforced SpeakEasy Microphone & Mic cable
Reinforced V-Micro USB Cable
V-MODA Sticker
1-Year Premier Warranty
Six-Star Service
50% Immortal Life Replacement Program
Availability & Pricing
Crossfade 2 Wireless is now available in three colors optimized for personalization: Matte Black ($330, €330, £300), Matte White ($330, €330, £300) and Rose Gold featuring Qualcomm aptX ($350, €350, £330) at V-MODA.com/Crossfade-2-Wireless and authorized resellers worldwide.
3D printing and 2D laser customization is also available exclusively at V-MODA.com/Crossfade-2-Wireless.
# # #
About V-MODA
Designed in Milano, V-MODA's verve is to amplify an authentic music lifestyle via timeless products forged by unparalleled quality, fashion-forward design and an unequivocal passion for music and materials. Led by Chief Visionary Officer and professional musician Val Kolton, V-MODA blends analog renaissance age inspiration, Italian design and precise Japanese engineering. V-MODA products have won 40+ editors' choice awards and have become essential gear for the world's top professional DJs.
V-MODA joined forces with Roland of Japan on 808 (August 8, 2016), to redefine and develop the next breakthrough in music products and push the boundaries of audio innovation to reach a global audience of music aficionados. V-MODA and Roland do not tune headphones only as the "artists intended" but asboth the "instrument engineer and artists intended".
Visit V-MODA.com, follow us at Facebook.com/VMODA, on Twitter (@VMODA) and on Instagram (@VMODA).