SAN DIEGO – (May 12, 2017) – Satechi, a brand known for producing accessories that make everyday life more convenient, launches the Type-C Pro Hub for MacBook Pro  13" and 15"  models. The new hub acts as a missing puzzle piece, adding additional functionality to the new MacBook Pro by keeping its slim form factor, but adding missing ports users lost from the previous MacBook generation.
Satechi's Type-C Pro Hub features: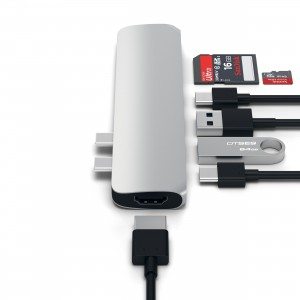 Thunderbolt 3 port: This handy port allows for pass-through charging, for both 13" (61W) and 15" (87W) MacBook Pro models, and quick data transfer with speeds up to 40Gbps, all without sacrificing usage of other ports.
4k HDMI port: Simply connect an HDMI cable from the Type-C Pro Hub to output crisp, 1080p high-resolution video  at 60Hz to external 4k monitor screens.
USB-C port: Additional USB-C port expands data transfer capabilities with speeds up to 5Gb.
Two USB 3.0 ports: Convenient USB 3.0 ports give users the freedom to transfer data from non-Type-C peripherals with speeds up to 5Gb.
SD/Micro card reader: Ideal for video and photo editing, the card reader slots provide data transfer speeds up to 104MB/s.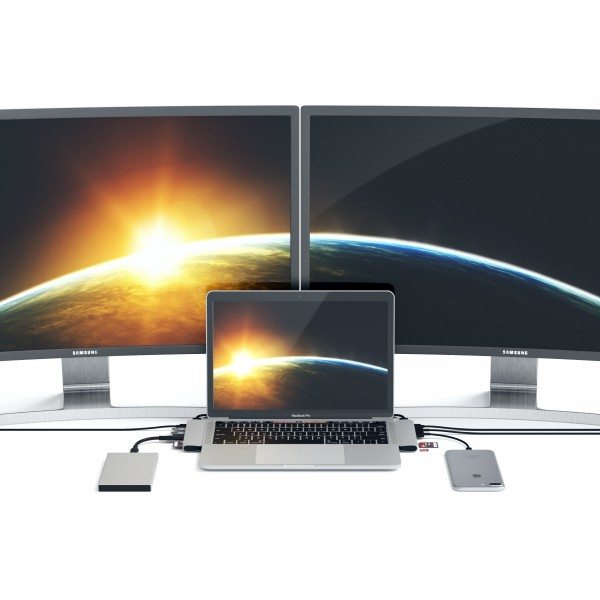 With its user-friendly design, simply plug and play to expand the MacBook's capabilities. Boasting a sleek and compact brushed aluminum design, users do not have to sacrifice form over function.
The Type-C Pro Hub is available now Silver or Space Gray for $99.99 at Satechi.net and Amazon.com.
For more information on the USB-C Travel Charger and all of Satechi's award winning products, "like" Facebook.com/Satechi and follow @Satechi on Twitter and Instagram.
About Satechi:
Satechi believes that technology should be limitless, timeless, and forever evolving to fit your modern lifestyle. The brand produces tech products and accessories that make everyday life more convenient for the fast-paced world we live in. Satechi strives for efficiency without compromising style. Each Satechi product is made with tough and durable materials, while still maintaining a sleek design perfect for the contemporary individual. For more information, please visit www.Satechi.net.