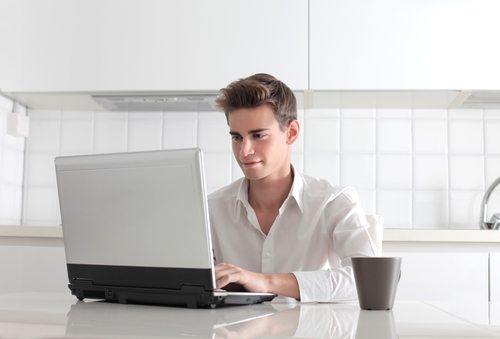 Remote work is good news for both employees and employers. Employees gain more flexibility in their schedules and the ability to skip the commute, and employers gain a more productive team. However, transitioning into remote work takes more than a wireless signal and laptop. Figuring out how to manage work, connect with the office in real-time and make sales while out in the field are all common issues for remote workers. Fortunately, there are plenty of technology options for remote work to revolutionize your work day. Here's how to get started.
Virtual Office Platforms
Humanizing the remote work experience is an unexpected challenge for employers and business owners alike. Personalize the experience with a unified communications platform to create a virtual office desktop. Make video calls, fax over documents, hop on a web conference and run social media campaigns from a single platform.
Cloud-Based Project Management
Remote work can feel like working in a vacuum where a sea of emails replaces project management meetings. Stay on top of projects and communicate with team members directly from a communications platform. Organize your team conversations in channels to give everyone a transparent view of what's going on in the project. You can also send direct message or hop on a call to clear up any questions in real-time. Projects move along quickly with uploadable PDFs, images, spreadsheets and documents where you can add comments to followup on later.
Time Management Accountability
For employers nervous about giving their employees free reign on where or when to work, they can get built-in accountability and peace of mind with employee scheduling software. Employees get instant updates on when you're working, and can also create schedules and approve requests for time off or shift changes in real time. Some platforms can also replace time clocks for small businesses who want their employees to clock in and out to keep track of when they're actually working.
Mobile POS
Expand your brand presence and make more sales in the field with point-of-sale (POS) software. Get set up with an easy POS system that integrates with your smartphone, laptop or tablet for retailers looking to setup at festivals, fairs and farmer's markets. Some software can also be used in brick-and-mortar stores, even with multiple locations, to integrate all of their sales info together for easy cloud-based mobility.
All-In-One Business Apps
Not all business solutions are expensive or time consuming to set up. Google's G Suite, for example, offers instant integration and pricing as low as $5 a month with professional email, storage, around-the-clock support and easy data migration. Businesses can use premium tools like form builders, calendars, hangouts and admin tools to streamline their remote work.
The question isn't necessarily whether or not remote work is right for you, it's which tools will help you do it best. Start by focusing on the tools that will help your productivity and communication, and add the rest organically as your work grows.