The Laptop market is crowded these days with everything from bottom shelf notebooks clear up to gaming rigs. What if you just want to run a business or have a tablet/notebook for everyday use. That's where the Samsung Galaxy Book comes it. The Book features a 12 inch screen, 128GB SSD HD, microSD memory expandable up too 256 GB and connected via the Verizon Wireless Network. Lets take a look and see what we thought of the Book.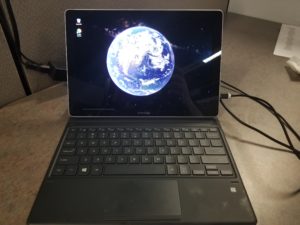 To start, the Galaxy Book is a very thin laptop/tablet that comes in about 26.6 oz. This makes it very easy to carry around in your backpack with little weight added or space taken up. Outer dimensions for the Book are just under 11.5 inches wide, 8 inches tall, and just .29 inches thick. The startup time for the book is quick as the Hard drive is SSD. No more waiting for your laptop to start-up and take time to load everything from plate drives.
Included with your purchase you get the Galaxy Book, S Pen, and the case that include a built-in keyboard. What is nice about the Keyboard is that it is connected to the Book with a connection port. This allows the Keyboard to be powered by the Book and not powered by an internal battery. This allows you to never have to worry if the keyboard will die in the middle of work. When you remove the tablet from the case/keyboard it will ask you if you want to switch to tablet mode. When using the touchscreen it will allow you to use a pop up keyboard so you can type on the screen, just like if the keyboard was attached.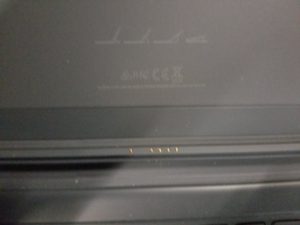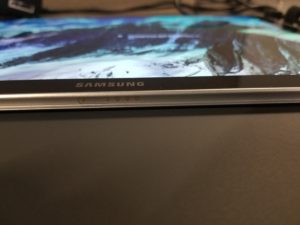 Next up is the S Pen. If you have used any of the Galaxy Note phones, you are very familiar with it. This pen allows you to draw, write, and make notes directly onto your screen and save them. This comes in very handy as a replacement for traditional pen and paper. Unfortunately the Galaxy Book has no holder for the pen like the Note does. The pocket clip on the S Pen is to narrow for the pen to easily be attached to the case on the Book. This makes for an easy to lose part.
The screen on the Galaxy Book is a 12 inch SuperAMOLED Screen. The resolution is 2160 x 1440. The picture quality is great and just like watching TV at home. It is great for video conferences and watching your favorite Cat video's on YouTube.  If you want to take a little time from work and catch up on your favorite TV show or movie. You won't be disappointed with the clarity of the screen. The touchscreen can recognise up to 10 touch points at once.
If you enjoy using Windows 10, you will be happy to know that the Samsung Galaxy Book uses that very operating system. Since this laptop/table can handle it, the Windows 10 version that it uses is the full x64 version you would find on your home or office computer. The version included is Windows 10 Home.
Powering the Galaxy Book is a Intel Core i5-7200 Processor at 2.50GHz. This gives you all the processing power you need to get your daily work done, without slowing down. This also helps with increasing the battery life up to 11 hours when watching video and up to 13 doing daily tasks and word processing.
Samsung included 2 built-in speakers or the Book. The speakers are on the left and right side of the tablet giving you a true stereo sound. The speakers are not overpowering, but are loud enough to hear your Movies, video's, and conference calls. There is also a 3.5mm headphone jack if you don't want other people listening in on your video's.
Speaking of conference calls, the Galaxy Book has both front and rear facing camera. The front camera is 5 MP and the rear is 13 MP with autofocus. This will make it easy for people to see you roll your eyes when the boss makes a comment you don't agree with during those long business calls. Also, if you happen to have this tablet when your child, husband, wife, or significant other does something funny, you will be able to stream that straight to the Book of Face or YouTube and everyone will be able to see it as if they were there.
The internal battery of the Galaxy Book is  5,070mAh Li-Ion. Charging is down with a wall plug and a USB-C cable. Both the wall plug and cable are included.
On the side of the Book, you will notice there are 2 USB-C ports. One port is for charging, the other is for a Multi-Port adapter. This adapter will let you connect your Galaxy Book to an external screen via an HDMI port. This adapter is available from Samsung for $89.99
Whether you are at home or on the go, you can stay connected thanks to the Verizon 4G LTE network. The tablet comes pre-installed with a SIM card with your account. This way, you can take advantage of the speeds of the Verizon Network to get all of your work done no matter where you  are.
Overall, if you are looking for a new tablet to replace your Microsoft Surface, or as an option to purchasing from Microsoft while also combining both your personal and work life, The Samsung Galaxy Book may be just for you.
Check out VZW.com to order yours today. You can add the Galaxy Book to your account for $54.16 per month, or for an outright purchase price $1299.99
[ngg_images source="galleries" container_ids="159″ display_type="photocrati-nextgen_basic_thumbnails" override_thumbnail_settings="0″ thumbnail_width="120″ thumbnail_height="90″ thumbnail_crop="1″ images_per_page="20″ number_of_columns="0″ ajax_pagination="0″ show_all_in_lightbox="0″ use_imagebrowser_effect="0″ show_slideshow_link="1″ slideshow_link_text="[Show slideshow]" order_by="sortorder" order_direction="ASC" returns="included" maximum_entity_count="500″]