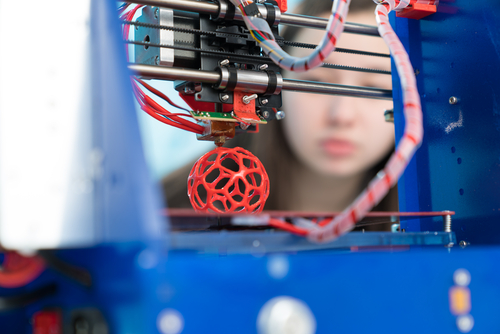 Three-dimensional printing has matured from a prototyping tool to a full-fledged production process. DuroLabs founder Michael Corr described how a commercial drone company that had used 3-D printing to optimize drone components' weight ratio successfully transitioned from the prototype stage into low-volume production. Similarly, customer prototype manufacturer Proto Labs now has eight on-demand production part manufacturing plants around the world specializing in nine different manufacturing processes.
These types of development illustrate how technological advances have made 3-D printing technology increasingly practical for businesses. Here's a look at some recent advances that have made 3-D printing more affordable, efficient and agile for small businesses.
The Falling Cost of 3-D Printers
As 3-D printing technology has matured, prices have fallen dramatically. Until recently, the average selective laser sintering (SLS) 3-D printer was as big as a car and cost between $200,000 to $5 million. But Formlabs announced in June that it will begin selling a scaled-down SLS 3-D printer stating at $10,000, with an added post-processing station, extra build piston and initial bucket of Nylon PA 12 material available for $20,000.
SLS printers are at the higher end of the 3-D printing spectrum. Lower-priced options are now even more affordable than this. The Formlabs Form 2 stereolithography (SLA) printer is available for $3,500, while fused filament fabrication (FFF) printers can be found for under $400.
The Rise of 3-D Printing Services
Small businesses don't need to invest in their own 3-D printers to take advantage of the technology. An increasing number of companies now offer 3-D printing outsourcing services and 3-D printed products. For instance, o-ring supplier Apple Rubber uses 3-D printing to offer over 7,000 sizes of customized o-rings and seals for specialized applications ranging from medicine to aerospace. To produce such a wide range of products, Apple Rubber relies on the Fifth Generation MakerBot Replicator Desktop 3-D printer, a cloud-based polylactic acid (PLA) filament printer with lightning-fast processing speed for rapid production. The MakerBot lets Apple Rubber quickly produce realistic prototypes and custom designs for its clients.
Where Apple Rubber applies 3-D printing to the o-ring seal industry, other providers specialize in a wide range of other industries, including everything from consumer products to electronics to medical services.
3-D Printing for the Agile Company
Three-dimensional printing is helping make small businesses be more agile by cutting production and materials expenses and growing profit margins, making it easier to scale. An example is aluminum production. Using traditional subtractive methods which cut away shapes from a block of aluminum wastes approximately 60 to 70 percent of material. The additive process used in 3-D printing minimizes this waste, significantly lowering production and materials costs.
Companies can also apply this agility to their logistics. Where traditional logistics depends on shipping from centralized production centers, 3-D printing allows for a more distributed production network, with printers bringing production closer to end users. This is enabling the printing of spare parts on demand, customized direct parts manufacturing and product postponement services where assembly is delayed until the final point of demand so that customers can customize final products themselves, DHL reports. UPS is seeking to capitalize on this by combining its network of supply hubs with 3-D printing services, combining production and shipping into a single service. Amazon has taken this concept a step further by patenting trucks equipped with 3-D printers, bringing mobile production centers directly to the customer's location. These trends will tend to drive down the cost of shipping, making small businesses more agile and boosting their bottom line.