SALT LAKE CITY – July 26, 2017 – ECOXGEAR, known for its rugged line of high quality, portable and waterproof speakers and power banks, is expanding into a new sector of personal audio. Using its longstanding premium audio experience, ECOXGEAR is now launching nine new products in the Bluetooth headphone category, ranging from true wireless earbuds to a Bluetooth adapter.
EcoSportbuds TW90: TRUE WIRELESS BLUETOOTH EARBUD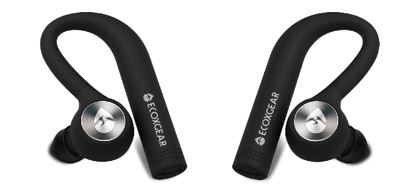 Spearheading ECOXGEAR's new headphone line is the EcoSportbuds TW90 ($129.99), the brand's first waterproof, true wireless, Bluetooth earbuds. The unique design of the EcoSportbuds TW90 wraps around the ears, giving them significantly better wireless range and performance than minimalistic designed earbuds, all while staying in place during any activity. Additional features include microphones in each earbud, which can be used simultaneously or separately, 8mm drivers, a 5-hour rechargeable battery and varying size tips to fit each unique user.
EcoSportbuds BW20: ENTRY LEVEL BLUETOOTH EARBUD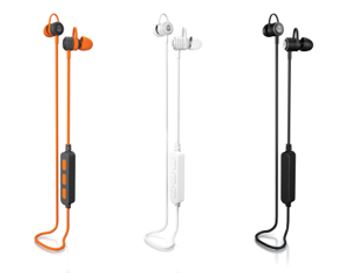 The EcoSportbuds BW20 is the brand's entry-level Bluetooth earbud, priced at just $24.99. With the in-ear hook and magnetic attraction between buds, they will be comfortable both while in use and while on standby. The sweatproof EcoSportbuds BW20 features 4 hours of playtime and 6mm drivers, ideal for everyday use. Additional features include an in-line microphone for accessibility and convenience and three distinct size tips.
FULL RANGE

In addition to these the true wireless and entry level options, ECOXGEAR is also launching a full line of earbuds and headphones to serve a variety of needs and unique wants for every customer.
EcoSportbuds BW60 ($64.99) – Waterproof IPX7 rated earbud with 10mm drivers, Bluetooth and AVRCP technology, integrated microphone, 9 hours of playtime and an ear loop design for a secure fit.
EcoSportbuds BW50 ($54.99) – Features a waterproof IPX5 rating, 10mm drivers, Bluetooth and AVRCP technology, in-line microphone, 8 hours of playtime and an ear loop for secure fit.
EcoSportbuds Crossfit BF70 ($54.99) – Waterproof IPX5 rated earbud with 6mm drivers, Bluetooth and AVRCP technology, in-line and neck wrap integrated microphone, 8 hours playtime and neck wrap for secure fit.
EcoSportbuds BC40 ($44.99) – On-ear headphone features foldable and adjustable earpieces for comfortable travel and wear, waterproof IPX4 rating, 40mm drivers, Bluetooth technology, integrated microphone and 15 hours of playtime.
EcoSportbuds BW30 ($34.99) – Features a waterproof IPX5 rating, 7mm drivers, Bluetooth technology, in-line microphone, 8 hours of playtime and earbud magnet for comfortable stand-by wear.
EcoSportbuds Wired CB10 ($14.99) – Wired earbuds with a waterproof IPX7 rating.
EcoConnect BA80 ($24.99) – Bluetooth adapter features AUX-in connection, Bluetooth range up to 49-feet, 100mAh rechargeable battery, 150-hour standby time, 5 hours of playtime, noise reduction, echo cancellation and voice prompt.
The full line of ECOXGEAR's new personal audio products will be available nationally September 2017 starting at just $14.99.
For more information about ECOXGEAR, "like" them on Facebook.com/EcoXGear and follow them onTwitter.
About ECOXGEAR:
Based in San Diego, California, ECOXGEAR is the leader in rugged, portable and waterproof consumer electronics catering to the outdoor world. ECOXGEAR's mission is to offer a variety of audio solutions for surfers, kayakers, campers, and overall outdoor enthusiasts. Each of its innovative products support true IPX7 waterproof standards and exceed military specifications 810G. Check out ECOXGEAR's growing line of portable Bluetooth audio speakers, battery management, and solar power solutions at www.ecoxgear.com.