Punch it, Chewie! In celebration of San Diego Comic-Con, ThinkGeek, the premier retailer for the global geek community, and Her Universe, the groundbreaking fangirl fashion and lifestyle brand, have joined forces to launch an all-new stunning Star Wars fashion collection featuring dresses, blouses, blazers, scarves and more. All items are available exclusively at ThinkGeek.com.
To see the collection in person, visit us at booth #3349 or during the Her Universe Fashion Show on July 20th at 6 PM at the Manchester Grand Hyatt Hotel.
Highlights of the collection include: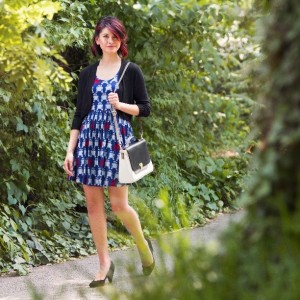 R2-D2 Print Ladies' Tank Dress
This super-comfortable stretchy tank dress features a print of R2-D2 in light grey and wine red on a navy background. It's super versatile. Add a belt and some peep toe shoes to dress it up. Pair it with some flat sandals to head out to the grocery store or Tosche station to pick up some power converters. Whatever floats your landspeeder.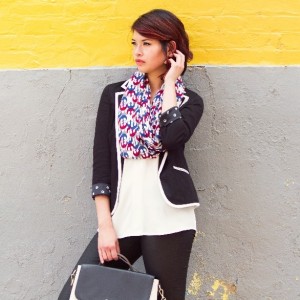 Rebel Alliance Print Infinity Scarf
Wrap yourself up in your favorite fictional universe with this Rebel Alliance Print Infinity Scarf. It features a print of blood red, midnight blue, and carbonite grey Rebel Alliance Starbirds. It's perfect for a day at the senate or bumming around Mos Eisley.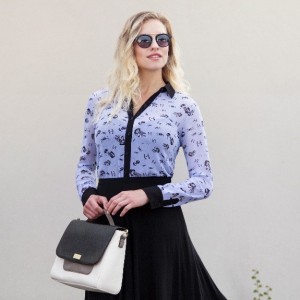 Star Wars Ships Ladies' Blouse
Feel like you're walking into a Lucasfilm hangar bay with this Star Wars Ships Ladies' Blouse. It has X-Wings, the Millennium Falcon, a standard TIE fighter, and the TIE Advanced x1. It's fancy enough to wear to work or the theater or wherever you're required to be less scruffy-lookin'. But it's not too stuffy, made from a lightweight and breezy chiffon.
R2-D2 Print Ladies' Tunic Blouse
You know what else would make adulting easier? If the blouses hanging in our closets allowed us to express our fandom. Take this one, for instance. This R2-D2 Print Ladies' Tunic Created from a Artoo print fabric, it features a scalloped bottom, a round neck, and a navy blue translucent back. It's enough to make a fangirl beep and bloop with joy.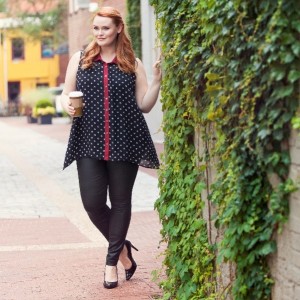 Star Wars Symbols Collared Tank Tunic
Sometimes we have a hard time choosing. Chocolate or vanilla? Dine in or carry out? Rebel Alliance or Galactic Empire?
You shouldn't have to choose. That's why the Star Wars Symbols Collared Tank Tunic comes with an alternating pattern of both Rebel Alliance and Imperial logos. With long flared sides, metal buttons, and a contrasting collar and placket, it's like chocolate and vanilla that you both eat at the ice cream shop and get to take home to stick in the freezer. Score.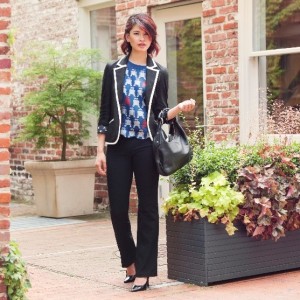 Star Wars Symbols Ladies' Blazer
Amp up your next interview with this Star Wars Symbols Ladies' Blazer. It features a notched lapel, jetted functional pockets, and princess seams in the front. The lining print is a pattern made from Rebel Alliance and Imperial logos, and it peeks out if you roll the cuffs. With its black and white colorway and dual logo design, you don't have to choose a side. Dark. Light. What are you feeling like today?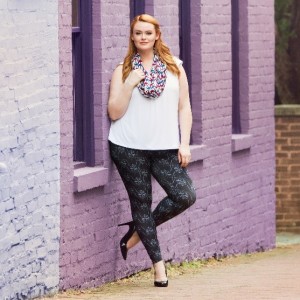 Star Wars Faces of Vader Leggings
Unless you're a Stormtrooper, if you live in the Star Wars universe you probably spend a lot of your time in fabric wrapped around like a billion times and/or flowy things easily caught in mechanical devices like trash compactors or ship doors. Time to pick up something a little more form-fitting.
You may not know the power of the Dark Side, but when you walk down the street in these Darth Vader leggings, you'll feel it. Paired with a crop or tunic top, they're great for heading down to the Death Star cantina for a drink.
For more information on the ThinkGeek x Her Universe Star Wars Collection or other ThinkGeek products, visit ThinkGeek.com or email [email protected].
About Her Universe
Her Universe was launched in 2010 by actress and entrepreneur Ashley Eckstein. Her Universe markets to female sci-fi and fantasy fans by developing and producing collections of female-centered apparel and accessories for such licenses as Star Wars, Doctor Who, Marvel, and Studio Ghibli. You can learn more about Her Universe and purchase the current line of fangirl apparel and accessories by going to www.heruniverse.com and by following Eckstein & Her Universe on Facebook (facebook.com/HerUniverse) and Twitter (twitter.com/HerUniverse). Her Universe is a stand-alone subsidiary of Hot Topic, Inc.
About ThinkGeek
ThinkGeek is the premier retailer for the global geek community. Since 1999, ThinkGeek has been creating a world where everyone can express and celebrate their inner geek, turn their interests into passions, and connect with one another. We are obsessed with creating and sharing unique and authentic experiences that stimulate our fans' imaginations and fuel their geek core. We believe there is a geek in everyone and invite you to Join In. Geek Out. Learn more at ThinkGeek.com.