Time for your upgrade and not sure what phone to get? Check out what we thought about the Samsung Galaxy S8.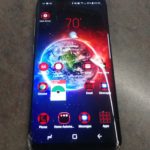 The Galaxy S8 features a 5.8 inch Super AMOLED screen that  boasts a screen resolution of 1440×2960 pixels. This gives you a pixel density of 570 ppi. This gives you one of the clearest screens available right now in a smartphone.  The screen is scratch resistant (Corning Gorilla Glass 5) , but not shatter proof. One accidental drop on the concrete from about 3 feet shattered both the front and back screen's.  Samsung gave the S8 what they call their Infinity screen. The screen goes from one edge to the other with virtually no border. What's nice about this screen, besides how clear it is, it how bright it gets. If you use your phone outside on sunny day's you will easily be able to see what you are watching or reading.
To power the S8, Samsung uses the Qualcomm Snapdragon 835 Processor. This Octa-core processor gives you great battery life with no lag. You can run multiple programs without slowing the phone down. The S8 also has 4GB of system memory and 64GB of user available memory.  This gives you plenty of space to store your photo's and video's. If you happen to have a lot of video's and pictures, you can upgrade your memory via a microSD card. You can expand the memory up to 256 GB. Thanks to the expansion, you can almost store all of your video's on one device.
If you enjoy watching video's the Samsung Galaxy S8 has a 3000 mAh battery. Samsung says this battery will give you 29 hours of talk time, 12 hours of LTE data usage, 14 hours of Wi-Fi data, and 16 hours of video playback. Now these are optimal times so with normal use, I could get between 8-10 hours of video time and about 6 hours of gaming. To keep the Li-Ion battery charged, you can either use the Quick Charge USB-C port or with wireless charging via a Qi or Powermat charger.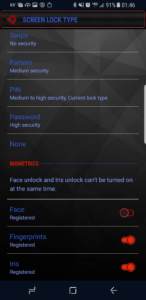 To unlock the phone, you have multiple options. You have your standard methods such as Pin, Pattern, and password. The other options that are available on the S8 are Fingerprint (via a fingerprint reader on the back of the phone), Facial Recognition, and also an Iris scanner. No other phone gives you that level or amount of security methods to protect your phone. You can set up one, none, or multiple ways to unlock you phone at the same time. During testing we used Pin, Facial, Iris, and Fingerprint. Pin was the easiest in all conditions, while fingerprint worked great except for when you had a wet or damp finger. Facial and Iris are good in normal to low light conditions. There was multiple times outside in the sun where the camera had issues with the face and Iris scan.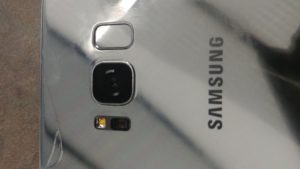 Lets go into some of the other features Samsung stuffed into the S8.  First you have the edge screen. This gives you all the great features that were added on the the Samsung Curve phones. You are able to get visual alerts to text and phone calls that are color coded to contacts you set. You also can set the Edge for quick calling of contacts, Sports scores, Stock Tracker, Quick access to apps, Calendar events, Weather, Quick tools, News, and much more. You get all of this with just a swipe of the edge panel. Another great feature I like is the S Health App. This allows you to track your health in one app. You can use the heart rate monitor on the back of the phone combined with the app to track important data like heart rate before, during, and after your workout to make sure you get the most out of you excersize. You can also monitor your SpO2 (Blood Oxygenation) and check your stress levels.
I mentioned earlier about storing all of your photo's and video's on you phone. Well these will be be video's you take on your phone. The S8 has a 12 MP camera with a F1.7 Aperture that will let you leave you camera at home. You get crystal clear HD photo's that you can use and blow up and make a wall mounted picture that looks just as good as it did on your phone. Video is also the same. You can record in 4K at 30 FPS or 1080p at 60 FPS. This will allow you to show crystal clear video's on your TV or other methods that were recorded on your phone. If you video conference a lot, you have an 8MP camera that features both Wide Angle, Autofocus, and HDR modes.
Overall, if you have a older Samsung model, of looking to move to Samsung, the S8 is a great choice. They have taken everything you liked about their old phones and improved and added to it, to make it one of the best phones on the market.
You can pick up the S8 at Verizon Wireless or Verizon Wireless.com for $31.50 a month for 2 years or $756.00 outright. It is available in Orchid Grey, Arctic Silver, or Midnight Black.