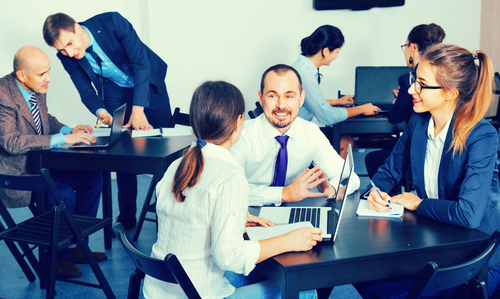 Engaged employees can be a big boon for your workplace. Highly-engaged employees are 38 percent more likely to generate above-average productivity, and increasing worker engagement initiatives by 10 percent yields profit gains of $2,400 per employee annually, according to the Workplace Research Foundation. Unfortunately, only one in three American employees are engaged at work, and over one in six are actively disengaged.
One way to boost employee engagement is by equipping your workers with effective digital tools. Here are three of the latest tech tools you can use to promote worker engagement and efficiency.
Use Artificial Intelligence to Measure Employee Satisfaction
Artificial intelligence is one of the hottest technologies today, and employers are putting it to use to boost employee engagement, says SAP SuccessFactors senior vice president Stephan Amling. AI can help you identify which workers are most engaged and which ones aren't by analyzing data collected from sources such as emails, social media posts and facial recognition software. You can use the results to identify which workers are most likely to quit so that you can take preventive measures to increase their job satisfaction.
For example, IBM has used an AI analytics tool called Social Pulse to analyze worker comments posted on the company's internal social networking platform, Connections. By analyzing worker comments on the company's performance-review system, IBM determined that employees were unhappy with their performance being graded on a curve. IBM responded by changing the way performances were evaluated, which it would have been unable to do in a timely manner without AI, says the company's Center for Engagement & Social Analytics manager Sadat Shami. Twitter, Intel and Accenture are some other companies putting AI to use as a sentiment analysis tool in order to measure and boost employee engagement.
Boost Productivity with Smarter Communication Tools
Your company's choice of communications tools can have a big impact on worker productivity and engagement. Workers spend a third of their work hours answering email, whether they work in the office or from home, Carleton University research has found. To regain time wasted on email, an increasing number of companies are turning to email alternatives modeled on social media interfaces.
For instance, the Scottish Council for Voluntary Organisations has moved all its internal communications to Slack, which allows for integrations with tools such as Trello and Twitter. SCVO project manager Beth Murphy says this has allowed the company's team members to cut down on time spent managing Outlook inboxes.
Advanced phone tools can also help you boost worker productivity. For instance, successful large companies such as Verizon have been able to improve their phone management efficiency by using automated directories to automatically route, track and manage calls.
Send Employees Virtual Recognition Awards
Recognizing employees is one of the most effective ways to boost engagement. When employees were asked the most important thing a manager could do to make them do great work, 37 percent said recognition, making this the leading answer by far, an O.C. Tanner Institute survey found. Thirty-five percent said they felt they could motivate their fellow workers by recognizing them.
Today's tech tools can make it easy for you to recognize employees and allow them to recognize each other. For instance, Horizon Pharma uses recognition tool HighGround to let employees send each other virtual recognition badges which can be viewed on the company's intranet site. The company's 900 employees post an average of 26 badges daily, illustrating how this type of tool helps boost worker engagement. External customers can also send recognition badges. HighGround also allows managers to regularly check worker moods, which are represented by facial emojis, allowing companies to identify and intervene with dissatisfied workers.
Andy was born in the Isle of Man and currently lives in Pittsburgh.
Known globally as a willing source for tech news and views, Andy takes great pride in consultation and education.
Should his schedule permit, Andy is available to help you with your SEO and Web Analytics needs.